Bulk Wholesale
Best Sports Pants For Women
Because we focus on selecting you the cheap and best pants for women, we do research in the market carefully to find the top pants, therefore the leggings on the page just at two styles. They meet the need for two different styles of ladies.
In Chinavasion, you can buy a nice pants for yoga for less than a fast meal. Cheaper than Amazon. Don't forget to check out our great cheap high-quality rare ladies clothes and shoes category, there are waves of surprises waiting for you to discover.
Sexy Solid Style for Yoga
Sexy Ass Tight Yoga Leggings: Making You Look Sexy and Attractive
You have a nice shape, you won't touch the law while you showing your sexy and attractive in front of the people. Instead, you are showing the beauty of human's body. Our high waisted seamless elastic waist tight yoga leggings without pockets is born for a sexy lady like you. Tight, high elasticity, and seamless help you to show your shape perfectly, and you can match other clothes easily thanks to the simple design.
Polyester fiber instead of organic cotton, very comfortable to wear, soft, easy to dry, tummy control, elastic waist, thanks to the stretchy and breathable material. Wearing the high waisted elastic waist seamless pants for yoga, you will feel good when you doing sports. And the legging not just fits for yoga, it also suitable for dance, gym fitness exercises, and many other kinds of sports. The plus size is XL. There are four different colors include blue, black, light gray, and purple to choose from.
Feel free to check out your body shape size and find a suitable high waisted tight leggings before you make an order. Don't forget to check out the size instruction on the product details page.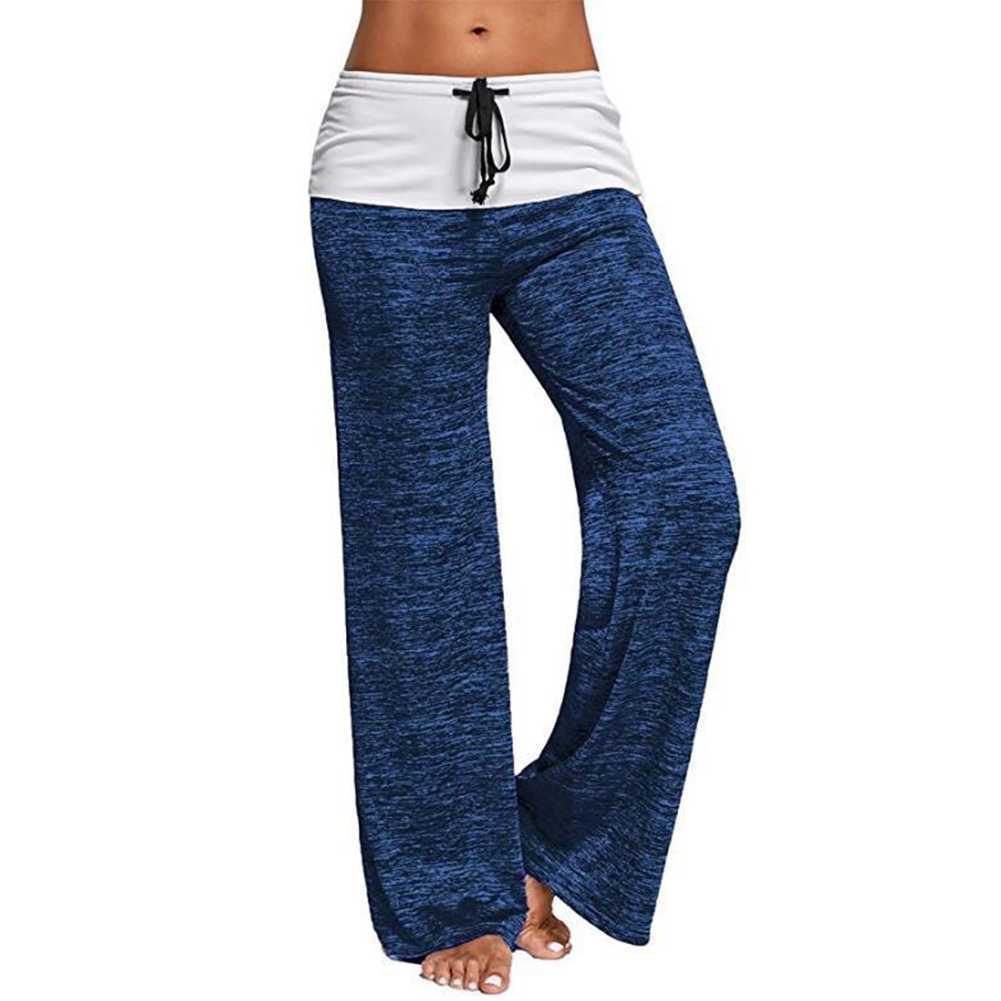 Casual Style For Yoga
Loose Trousers: Presenting Nature and Casualness
The casual loose yoga trousers is different from the seamless tight yoga legging, tight legging focus on showing woman's shape, and loose trousers focus on showing nature, dignified, and casualness. It's another way to show ladies shape. Instead of organic cotton, our loose yogalicious trousers use top-ranking fabrics adhesive fiber as it's material, which makes the trousers breathable, soft and comfortable to wear.
It does not use high waisted design, but with wide trouser legs, visually elongate the legs and make them taller. Elastic waist with a belt, suitable for doing exercises. The occasions for use is suitable for yoga, gym fitness, and running sports.
There are five different colors including red, gray, black, blue, and purple to choose from. The plus size is XXL. You can check out the size instruction on the product details page.
Whatever style of girl you are, you can find suitable yogalicious outfit on Chinavasion.