« See All Current Chinavasion.com Jobs
想在一个不断发展、和谐共进的贸易公司找一份富有挑战而又让你充满激情的工作吗?
Looking for challenging, interesting work in a stable, friendlyinternational trade company?
---
关于我们...
现今,我们取得了众多合作伙伴的信赖,我们向世界各国提供越来越多的服务。
目前,我们拥有2个办公地点,100多名员工。
公司有一个稳定、和谐、友好的工作环境;公司创办以来不断发展与壮大,同时为有志之士提供了更多的职业发展机会。
新员工入职后,将获得相应的岗位/技能培训;试用期为1-3个月。
About Us...
Local Chinese company providing service for world-famous ecommercecompany Chinavasion.com
Over 100 staff in office and warehouse.
Stable, friendly company; fast growth and many career opportunities.
Training provided for all new staff; 1-3 month trial period.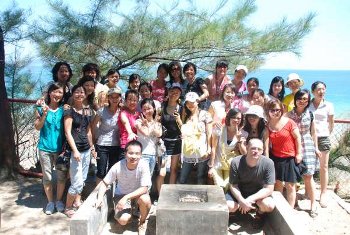 Join China's Coolest E-Commerce Team!
---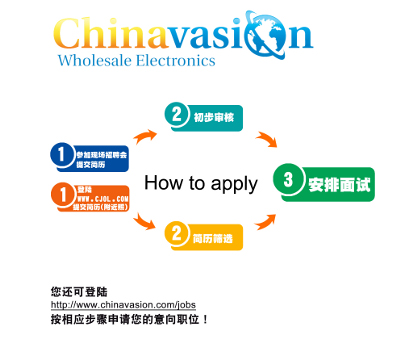 请按如下要求与我们取得联系:
联系方式:邮件给我们。
邮件主题为您感兴趣的职位名称。
邮件正文如下:
您详细的联系方式。
姓名、年龄、户籍地等。
简短地描述你为什么会对此职位感兴趣
说明:
仅需提供以上信息即可,无需提供您简历,不接受附件文件。
如果我们觉得您合适的话,我们将会给出一份试题和固定的简历格式,以邮件的形式给到您。
邮箱:




谢谢!
 
How To Apply:
Contact Us First Without Your Full Resume
Email us in Chinese language.
Include the job title you are interested in, in the email subject.
Include your contact details.
Write your name, age, and hukou location.
Write a short description about yourself and why you are interested inthis job.
Do NOT send your full resume or additional documents.
If we feel you may be suitable, we will contact you with a questionnaireand a standard resume form to fill in.
Contact

 
Thanks for your interest!